CALL FOR ALL THINGS WATER HEATERS.
Water Heater Repair & Installs in Buffalo
Reimer is Buffalo's go-to team for all things water heaters.
If your water heater has stopped working, is leaking, or has another issue, please call us right away. Our plumbers are available day or night.
Need a new water heater installed? We can help! We offer professional standard and tankless water heater installation.
Call or contact us online for all your water heater repair, maintenance, and installation needs here in Buffalo and Western New York.
We're available Day or Night to help you.
We repair all types of water heaters.
Friendly and professional.
Our plumbers are service & install pros.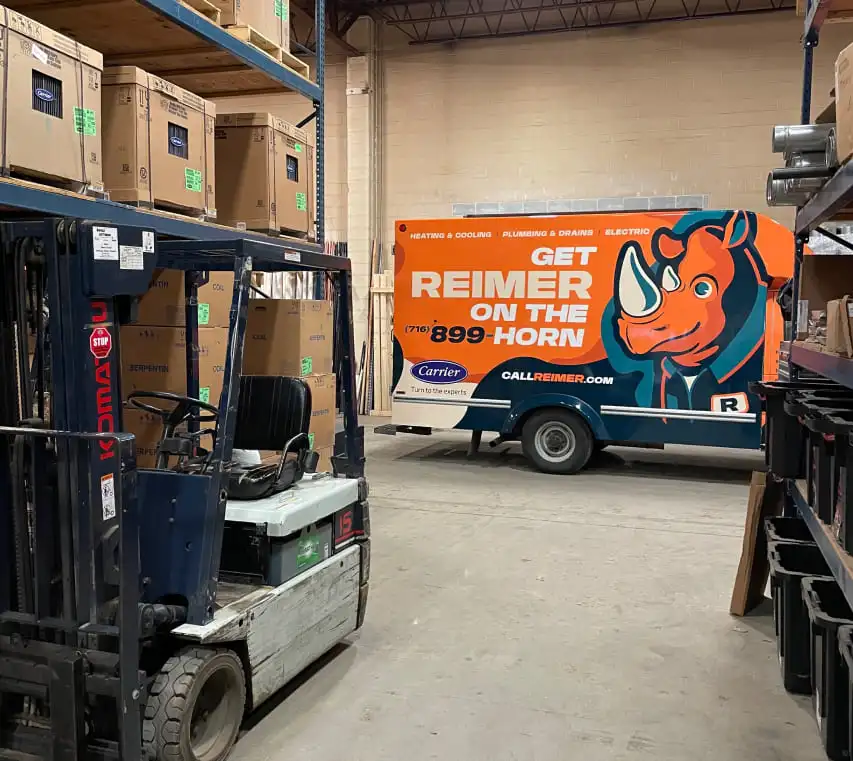 WE'VE GOT YOU COVERED
Maintenance Plans
Since 1921, our team of Western NY's top notch service specialists have been serving the area and caring for thousands of customers. At Reimer, we do everything in our power to ensure that your home comfort system works efficiently and effectively every time you turn it on.
Multi-Point System Inspection
Calibrate System for Efficiency
Ensure Proper Airflow
Maintain System Warranties
Reduces Unexpected Breakdowns
Evaluate Filtration & Indoor Air Quality
Routine Maintenance Leads to Reduced Utility Bills and Extends the Life of your System(s)
View Maintenance Plans
Notice these signs? Call us now.
Here are a few common water heater issues.
No Hot Water
If your tap isn't producing any hot water, that's a sure sign that something's not right with your water heater. Try reseting the circuit at the breaker box and, if that doesn't work, give us a call.
Leaking Tank
Any water pooled on the floor, or visible cracks in the tank shell, should be taken very seriously. Turn off the water and call us. Your water heater could be on the verge of failing and bursting.
Broken Pressure-Relief Valve
If your pressure-relief valve is stuck or broken, it won't be able to release excess pressure inside the tank. This could increase the risk of a tank burst. Have us out to fix this essential valve.
Limited Hot Water Supply
If your home's hot water supply is slowly dwindling, it could be an issue with the heating element, corrosive buildup, or both. Give us a call to have a plumber out for an inspection of your system.
Scalding Water
If the water coming out of your faucets or shower head is too hot, it could pose a scalding risk, particularly to elderly or young family members. Our plumbers can adjust the temperature settings.
Poor Efficiency
As water heaters age and experience corrosive buildup, they become less efficient. If you're noticing your electric or gas bills creeping up, it might be a sign your water heater is using too much.
YEARS OF
EXPERIENCE
Since 1921
Air Conditioning, Heating & Plumbing Repair in Buffalo, New York.
For decades, local homeowners have trusted the team at Reimer Home Services with all their home service needs. We're your HVAC company in Buffalo. We're your plumbers here in Western New York. Above all else, we're here for you and your home.
You can count on our team to be there when you need us. In fact, we're available Day or Night. Your home's problems can't wait, and neither should you. Call us and let us know how our plumbers and techs can help.
We're your local home services team…
Chris and Kevin were excellent! The issue involved plumbing. Accomplished all that was needed at the time. They are returning for additional work as well. The annual contract has great value , and gives homeowner piece of mind when problems arise! I just signed up for mine!
-Kitty Testa
Chris L. Is a wonderful man. Put my mind at ease immediately when he looked at the problems which turned out not to be as bad as we thought. I will definitely use them again. Great service!
-Janice Kaled
Chris Reimer was at my home and did a great job was very nice guy to have work in my home and gave me no run arounds. I would for sure use again thank you very much!!
-Matthew Dillon
Call us for all your water heater needs.
Water Heater Repair
If your water heater has stopped working, trust our plumbers to fix it. Call us now: we're available Day or Night here in Buffalo.
Water Heater Replacement
Have our team replace your old water heater with a new, efficient and reliable one. Our plumbers are water heater installation experts, and we'll get your water heater switched out quickly.
Tankless Water Heaters
These advanced water heaters are efficient, reliable, and capable of providing your home with unlimited hot water! If you're ready for an upgrade, be sure to talk to our team about our selection.
Water Heater Service
We help homeowners throughout Buffalo with their water heater service and upkeep. Your water heater needs to be flushed and cleaned at least once per year. Have our plumbers out to help you with this.
Our 100% satisfaction guarantee.
You can count on our team to do the work right the first time out. However, if you're not completely satisfied with our service or our work, please let us know. We'll talk it through with you and find out what we can do to set things right.
Buffalo's best plumbing team.
We're proud to have Buffalo's top plumbers working under our roof. Call us for Day or Night service, and we'll send one of these friendly experts out to your home to handle any plumbing issue you're facing.
Our plumbers handle all projects.
All our plumbers are certified.
Our team is background-checked.
Upfront, honest pricing.
Our company offers fair and honest estimates, and then stands by them. We'll always tell you what your plumbing repair should cost before getting started, and get your approval before we do.
We're here for local homeowners.
Proud to serve Buffalo and Western New York.
From Niagara Falls to Orchard Park and all points in-between, we're Western New York's local heating, cooling, and plumbing pros. No matter where you live in the Buffalo area, you can count on Reimer to be there for your home with our fast, Day or Night service.

Click the link below to see all the communities we serve, and to contact us for service.
Factory Authorized Carrier Dealer
Reimer is proud to be a Factory Authorized Carrier Dealer offering a 100% Satisfaction Guarantee. We are so confident that you will be comfortable – not only with your Carrier heating and cooling products but with us as a Carrier Factory Authorized Dealer – that we back it up with a 100% satisfaction guarantee. If, for any reason, you are dissatisfied with your Carrier equipment within one year
Our plumbers fix it all.
Our team works with all makes and models.