OUR PLUMBERS ARE READY TO HELP.
Buffalo Drain Cleaning & Clog Removal
Have a tough clog in your shower or kitchen sink? Your average plunger isn't going to get the job done.
Our team will. Call us now for Day or Night drain cleaning here in Buffalo and Western New York. We'll send a plumber out to your home to help clear out the clog and get your shower, sinks, or toilet back to normal.
Our plumbers are available Day or Night. When you need us, call us. Or, contact us online to request service.
Our plumbers can clear any clog.
100% satisfaction guarantee.
We have Day or Night service available.
Your locally trusted experts since 1921.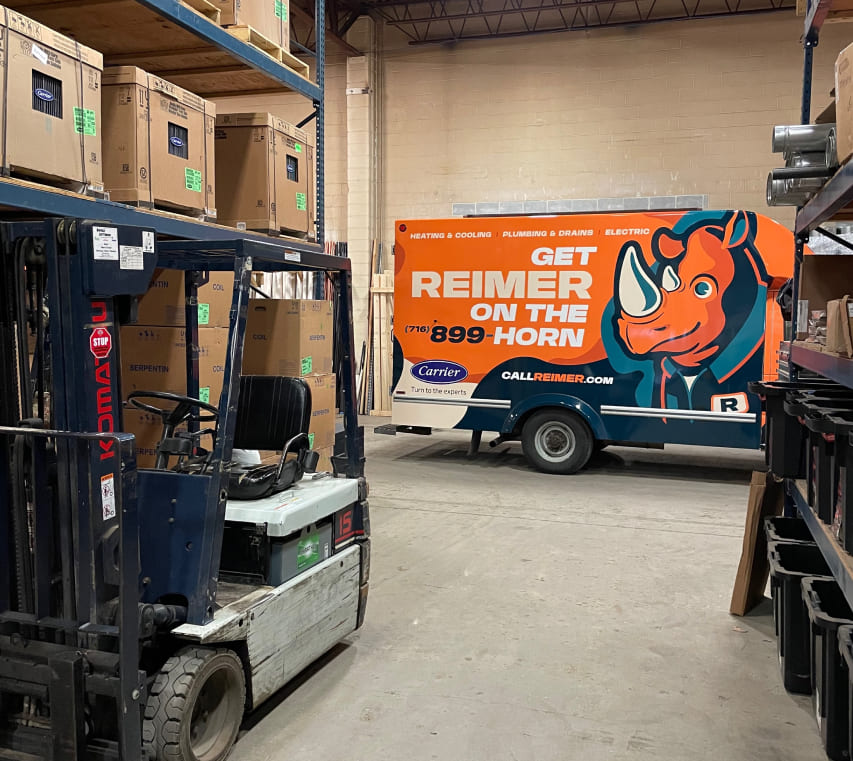 WE'VE GOT YOU COVERED
Maintenance Plans
Since 1921, our team of Western NY's top notch service specialists have been serving the area and caring for thousands of customers. At Reimer, we do everything in our power to ensure that your home comfort system works efficiently and effectively every time you turn it on.
Multi-Point System Inspection
Calibrate System for Efficiency
Ensure Proper Airflow
Maintain System Warranties
Reduces Unexpected Breakdowns
Evaluate Filtration & Indoor Air Quality
Routine Maintenance Leads to Reduced Utility Bills and Extends the Life of your System(s)
View Maintenance Plans
We'll clear and clean your drain.
We make removing a clog as easy as 1-2-3.
Call us for service.
Our plumbers are available Day or Night. If you have a clog, give us a call. We'll let you know the soonest we can get one of our certified, experienced plumbers out to your home to address the issue.
You'll get an upfront quote.
We provide our customers with an upfront estimate before every Buffalo drain cleaning service call. You'll know exactly what our service will cost, and what to expect from our team at Reimer.
We'll remove the clog.
A clogged drain can cause major disruption to your daily routine. You can trust Reimer to quickly and efficiently resolve the issue for you and remove even the toughest clog.
Here's why clogs occur.
What causes drain clog issues?
Food Waste
Many kitchen sink clogs are caused by trapped food waste. Some common clog-forming culprits include eggshells, uncooked rice and pasta, and flour. These should be disposed of in the trash, instead.
Hair
As we all know, bathroom sink, shower, and tub drain clogs are often caused by human hair. This hair collects into a mess and obstructs water from flowing down the drain as it should.
Trash Disposal
Some serious clogs form when non-organic waste is flushed down the toilet. This includes sanitary products, allegedly "flushable" wipes, and more.
Tree Roots
Some clogs can form deep in your home's sewer line. In particular, thirsty tree roots pose an immediate danger to the line. With enough time, they can grow around the line and into it, blocking it.
Grease & Oils
Kitchen grease is also a major hazard to your home's sewer line. Grease can partially solidify in the drain, collecting on the interior walls of the sewer line and starting a new clog.
Shifting Earth
Some sewer line issues are caused by a disruption to the gravity-based flow of wastewater away from the home. This can occur when soil shifts the angle of the pipe, causing a "u" shape to from.
YEARS OF
EXPERIENCE
Since 1921
Air Conditioning, Heating & Plumbing Repair in Buffalo, New York.
For decades, local homeowners have trusted the team at Reimer Home Services with all their home service needs. We're your HVAC company in Buffalo. We're your plumbers here in Western New York. Above all else, we're here for you and your home.
You can count on our team to be there when you need us. In fact, we're available Day or Night. Your home's problems can't wait, and neither should you. Call us and let us know how our plumbers and techs can help.
We're your local home services team…
Chris and Kevin were excellent! The issue involved plumbing. Accomplished all that was needed at the time. They are returning for additional work as well. The annual contract has great value , and gives homeowner piece of mind when problems arise! I just signed up for mine!
-Kitty Testa
Chris L. Is a wonderful man. Put my mind at ease immediately when he looked at the problems which turned out not to be as bad as we thought. I will definitely use them again. Great service!
-Janice Kaled
Chris Reimer was at my home and did a great job was very nice guy to have work in my home and gave me no run arounds. I would for sure use again thank you very much!!
-Matthew Dillon
Our service comes with a 100% guarantee.
We stand by our team's work. When you call us for drain cleaning services in Buffalo, you can rest assured that our service is covered by our 100% satisfaction guarantee. If you're not completely satisfied with our plumber's service, let us know. We'll work to make it right.
What will this cost me?
This depends on the type of clog and how many there are in your home. Sewer line clogs are tougher and more expensive to treat. Our plumber will give you an upfront estimate after they've inspected the clog. Plus, unlike many other Buffalo drain cleaning companies, we regularly run specials on our services, discounting them even further. Check out our coupons page to see the latest from our team.
Can't I just do this myself?
Not all clogs can be cleared with the average household plunger. Some tough clogs require a more intensive treatment. Store-bought drain cleaning chemicals, as convenient as they may sound, are not really the answer. Used repeatedly, these chemicals can damage your home's pipes, and they're not always as effective as promised. Your better bet is to call us for clogged drain repair in Buffalo and Erie County.
What tools do you use?
Our team uses professional drain cleaning tools to take on even the toughest out household clogs. This includes a variety of snake tools, electric rotor tools, sewer line cameras, and high-pressure water jets. The central theme of all the tools we use is that they are 100% effective while also safe for your pipes.
Buffalo's best plumbing team.
We're proud to have Buffalo's top plumbers working under our roof. Call us for Day or Night service, and we'll send one of these friendly experts out to your home to handle any plumbing issue you're facing.
Our plumbers handle all projects.
All our plumbers are certified.
Our team is background-checked.
Upfront, honest pricing.
Our company offers fair and honest estimates, and then stands by them. We'll always tell you what your plumbing repair should cost before getting started, and get your approval before we do.
We're here for local homeowners.
Proud to serve Buffalo and Western New York.
From Niagara Falls to Orchard Park and all points in-between, we're Western New York's local heating, cooling, and plumbing pros. No matter where you live in the Buffalo area, you can count on Reimer to be there for your home with our fast, Day or Night service.

Click the link below to see all the communities we serve, and to contact us for service.
Factory Authorized Carrier Dealer
Reimer is proud to be a Factory Authorized Carrier Dealer offering a 100% Satisfaction Guarantee. We are so confident that you will be comfortable – not only with your Carrier heating and cooling products but with us as a Carrier Factory Authorized Dealer – that we back it up with a 100% satisfaction guarantee. If, for any reason, you are dissatisfied with your Carrier equipment within one year