We have Day or Night service available.
Emergency Plumbing Repair Services in Buffalo
Have a plumbing emergency? Call us. We're your 24-hour plumber in Buffalo and Western New York.
Our certified and experienced plumbers are ready to help with just about any plumbing problem, from frozen pipes to a broken water heater.
Our customers come first. It's why all of our repairs come backed by our 2-year warranty.
When you need a Buffalo emergency plumber, look no further than Reimer Home Services. Call us or request service online today.
We're your 24-hour plumber in Buffalo.
We believe in upfront, honest pricing.
Fast, reliable service in Western NY.
Available Day and Night.
Interest and no payments up to 12 months on all products!*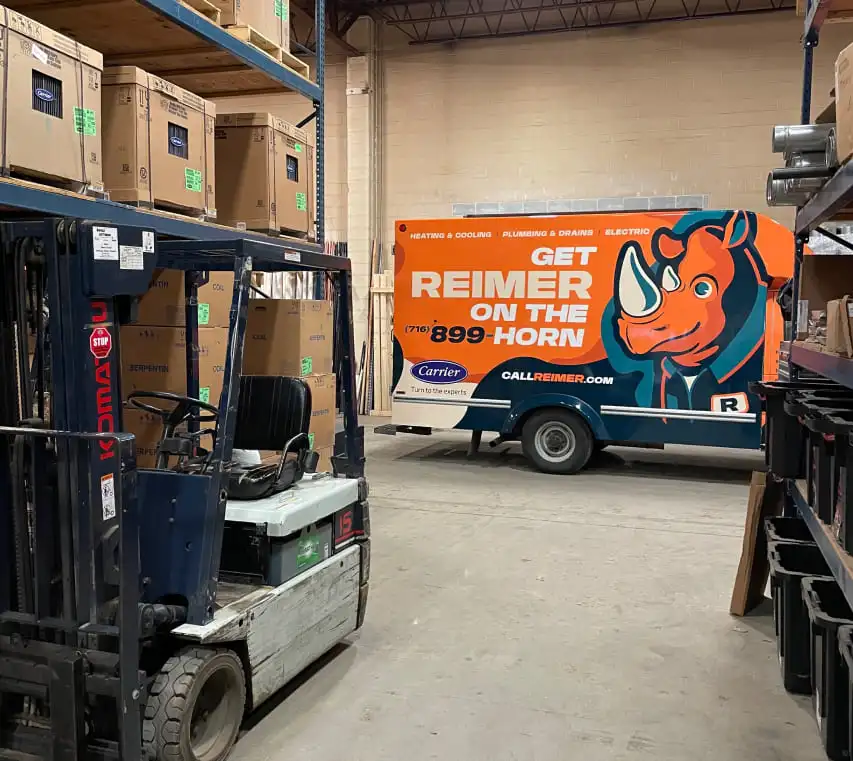 WE'VE GOT YOU COVERED
Maintenance Plans
Since 1921, our team of Western NY's top notch service specialists have been serving the area and caring for thousands of customers. At Reimer, we do everything in our power to ensure that your home comfort system works efficiently and effectively every time you turn it on.
Multi-Point System Inspection
Calibrate System for Efficiency
Ensure Proper Airflow
Maintain System Warranties
Reduces Unexpected Breakdowns
Evaluate Filtration & Indoor Air Quality
Routine Maintenance Leads to Reduced Utility Bills and Extends the Life of your System(s)
View Maintenance Plans
No matter what you need, call us.
Here are some common plumbing problems.
No Hot Water
If your hot water has stopped working, call us. We'll send one of our plumbers out to your home to figure out what the problem is and fix it—fast. Get your mornings back to normal with our help.
Water Leaks
Have a leak somewhere in your home? Call us for Day or Night service so we can quickly dispatch a certified plumber out to your home. We'll find and fix the leak, and help you deal with any damage it caused.
Clogged Drains
If your sink, shower, or toilet drain is clogged, call us. We have an assortment of tools, including snakes and high-pressure water jets, designed to safely and completely remove the toughest clogs.
Frozen Pipes
If your pipes have frozen overnight, you need to call us in right away. Frozen pipes are at risk of bursting, which could flood your home. DIY thawing rarely works. We'll safely thaw out your pipes.
Clogged Sewer Line
A clogged sewer line is an immediate threat to your home, as it could lead to a sewer line backup. If all your drains are clogging at once, turn off the water and call us right away for Day or Night service.
Hidden Leaks
Some leaks, hidden behind walls, under floors, or in ceilings, are just about impossible to find. We have advanced leak detection equipment that allows our plumbers to pinpoint the origin of a leak.
Reimer is your full-service plumbing team.
No matter what kind of plumbing problem you're facing, our team can help. Our certified, professional plumbers have the tools, training, and experience to take on any project. When you need an emergency plumber in Buffalo, New York, call us. We're ready to get started.
YEARS OF
EXPERIENCE
Since 1921
Air Conditioning, Heating & Plumbing Repair in Grand Island.
For decades, local homeowners have trusted the team at Reimer Home Services with all their home service needs. We're your HVAC company in Buffalo. We're your plumbers here in Western New York. Above all else, we're here for you and your home.
You can count on our team to be there when you need us. In fact, we're available Day or Night. Your home's problems can't wait, and neither should you. Call us and let us know how our plumbers and techs can help.
We're your local home services team…
Chris and Kevin were excellent! The issue involved plumbing. Accomplished all that was needed at the time. They are returning for additional work as well. The annual contract has great value , and gives homeowner piece of mind when problems arise! I just signed up for mine!
-Kitty Testa
Chris L. Is a wonderful man. Put my mind at ease immediately when he looked at the problems which turned out not to be as bad as we thought. I will definitely use them again. Great service!
-Janice Kaled
Chris Reimer was at my home and did a great job was very nice guy to have work in my home and gave me no run arounds. I would for sure use again thank you very much!!
-Matthew Dillon
Buffalo's best plumbing team.
Upfront, honest pricing.
Our company offers fair and honest estimates, and then stands by them. We'll always tell you what your plumbing repair should cost before getting started, and get your approval before we do.
Learn about Reimer
Certified, friendly professionals.
We're proud to have Buffalo's top plumbers working under our roof. Call us for Day or Night service, and we'll send one of these friendly experts out to your home to handle any plumbing issue you're facing.
Our plumbers handle all projects.
All our plumbers are certified.
Our team is background-checked.
Upgrade your water heater.
Get reliability and efficiency.
Is your current water heater on its last legs? It's time for an upgrade. You should consider a tankless water heater. These advanced water heaters are energy-efficient, space-saving, and—most importantly—can provide your home with endless hot water!
If you and your family are sick of "running out" of hot water on busy mornings, a tankless water heater might be a great fit for your home.
We're here for local homeowners.
Proud to serve Buffalo and Western New York.
From Niagara Falls to Orchard Park and all points in-between, we're Western New York's local heating, cooling, and plumbing pros. No matter where you live in the Buffalo area, you can count on Reimer to be there for your home with our fast, Day or Night service.
Click the link below to see all the communities we serve, and to contact us for service.
Call us right away.
Here's how our fast plumbing repair works.
1
Call us now.
We're available Day or Night. Call us anytime, and we'll let you know the soonest we can send a certified professional out to your home.
2
We'll inspect and give you a quote.
Our plumber will get to work. They'll inspect the source of the problem and determine the best way to go about fixing it. At this point, they'll let you know in advance just how much it will cost.
3
We'll make the fix, fast.
Our plumber will then get to work and fix the issue. All of our plumbers travel with the tools and parts they'll need to complete most jobs, which means we can often make same-day repairs.
Our plumbers fix it all.
Our team works with all makes and models.