We can improve your home's air.
We're your indoor air quality experts.
There's no substitute for great service. At Reimer, we check all the boxes. We're fast, with Day or Night around-the-clock service available. We're reliable, with experienced technicians who do great work. We're proud to provide the very best in HVAC services in West Seneca.
When you need a heating and cooling expert, there's no better team to work with. We believe in doing things better. We're known locally for our Day or Night service.
Need an expert? We're here and ready to help you. Click the button and fill out the form.
Our professional IAQ tests are thorough.
Effective and proven IAQ solutions.
We install air purification equipment.
100% satisfaction guarantee.
Interest and no payments up to 12 months on all products!*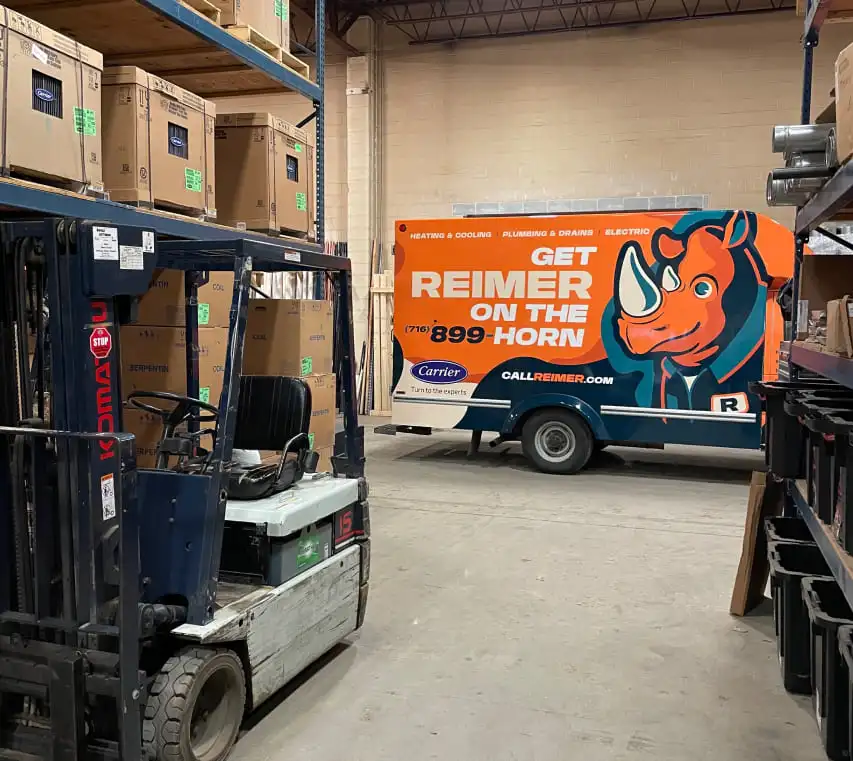 WE'VE GOT YOU COVERED
Maintenance Plans
Since 1921, our team of Western NY's top notch service specialists have been serving the area and caring for thousands of customers. At Reimer, we do everything in our power to ensure that your home comfort system works efficiently and effectively every time you turn it on.
Multi-Point System Inspection
Calibrate System for Efficiency
Ensure Proper Airflow
Maintain System Warranties
Reduces Unexpected Breakdowns
Evaluate Filtration & Indoor Air Quality
Routine Maintenance Leads to Reduced Utility Bills and Extends the Life of your System(s)
View Maintenance Plans
What you can't see could hurt you.
Do you know what's in your home's air?
Germs
Viruses, including COVID-19, and bacteria can linger and recirculate in indoor air, quickly spreading illness throughout the home. When inhaled, these germs can quickly make others sick.
Dust
We all know our homes are full of dust. But, you may not know just how much of it there is. Dust can trigger allergies, exacerbate the symptoms of ill family members, and leave surfaces dirty.
Pollen
Do your springtime allergies seem to follow you indoors? If so, you probably have tree and flower pollen in your home's air. High pollen concentrations mean there's no escape from allergy symptoms.
Mold & Mildew
Mold and mildew particles can start to make people sick long before their source is discovered. In fact, many homeowners first find out they have a mold issue when they get their IAQ report.
Pet Hair & Dander
Our pets are amazing. But, as anyone with allergies can attest, their hair and dander is not. It's no surprise that cat and dog hair are in your air, but – as with dust – you'd be surprised by how much.
Pollutants
We willing keep and use a variety of pollutants in our own homes. This includes aerosol sprays, cleaning products, woodworking and finishing solutions, car pollutants, and more. It's all in your air.
YEARS OF
EXPERIENCE
Since 1921
Air Conditioning, Heating & Plumbing Repair in Buffalo, New York.
For decades, local homeowners have trusted the team at Reimer Home Services with all their home service needs. We're your HVAC company in Buffalo. We're your plumbers here in Western New York. Above all else, we're here for you and your home.
You can count on our team to be there when you need us. In fact, we're available Day or Night. Your home's problems can't wait, and neither should you. Call us and let us know how our plumbers and techs can help.
We're your local home services team…
Chris and Kevin were excellent! The issue involved plumbing. Accomplished all that was needed at the time. They are returning for additional work as well. The annual contract has great value , and gives homeowner piece of mind when problems arise! I just signed up for mine!
-Kitty Testa
Chris L. Is a wonderful man. Put my mind at ease immediately when he looked at the problems which turned out not to be as bad as we thought. I will definitely use them again. Great service!
-Janice Kaled
Chris Reimer was at my home and did a great job was very nice guy to have work in my home and gave me no run arounds. I would for sure use again thank you very much!!
-Matthew Dillon
Can poor IAQ really make me sick?
Unfortunately, yes. The U.S. Environmental Protection Agency rates poor indoor air quality as an area of major concern, noting that common contaminants, endlessly redistributed by a central air system, can contribute to allergy symptoms and sickness. Of course, the worldwide COVID-19 pandemic has also drawn attention to the issue of poor indoor air quality, and how viruses can quickly spread through indoor spaces to infect new victims.
Can you do something about my home's humidity?
Poor humidity balance causes a lot of comfort and health problems in the home. In the summers, excess indoor humidity makes rooms feel hotter and can lead to mold and mildew growth. In the winter, cold, dry air causes skin and lips to crack, while making indoor air feel even colder. By balancing your humidity, Reimer can make your home much more comfortable and make the cooling and heating you already pay for go a lot further. Talk to us today about humidifiers and dehumidifiers.
Let's improve your indoor air quality.
Root Causes
IAQ issues can stem from a variety of sources. In some homes, an IAQ test reveals mold spores, indicating that there's mold growth somewhere. This is why an IAQ test is an important starting point.
Air Filters
A physical air filtration system can help capture airborne contaminants, trapping them until the filter is cleaned. It's the same principle your HVAC filter uses. However, this doesn't work on germs.
Air Scrubbers
An air scrubber is one of the most-effective IAQ solutions. Air scrubbers capture all airborne contaminants—dust, dirt, and pollen, but also viruses and bacteria—thoroughly purifying indoor air.
We're here for local homeowners.
Proud to serve Buffalo and Western New York.
From Niagara Falls to Orchard Park and all points in-between, we're Western New York's local heating, cooling, and plumbing pros. No matter where you live in the Buffalo area, you can count on Reimer to be there for your home with our fast, Day or Night service.

Click the link below to see all the communities we serve, and to contact us for service.