Your affordable, trusted experts.
Day or Night Heating & Cooling in Niagara Falls, NY.
For fast and affordable AC and heater repair here in Niagara Falls, call us.
We offer Day or Night emergency service. When you need us, we'll be there. It's that simple.
At Reimer, our technicians are more than ready to take on your home's repair and service needs. We're proud to provide the very best in HVAC services in Niagara Falls.
Call us or request service online to get started.
Call for Day or Night service in Niagara Falls.
Fast, affordable repair from true pros.
Friendly and professional.
100% satisfaction guarantee.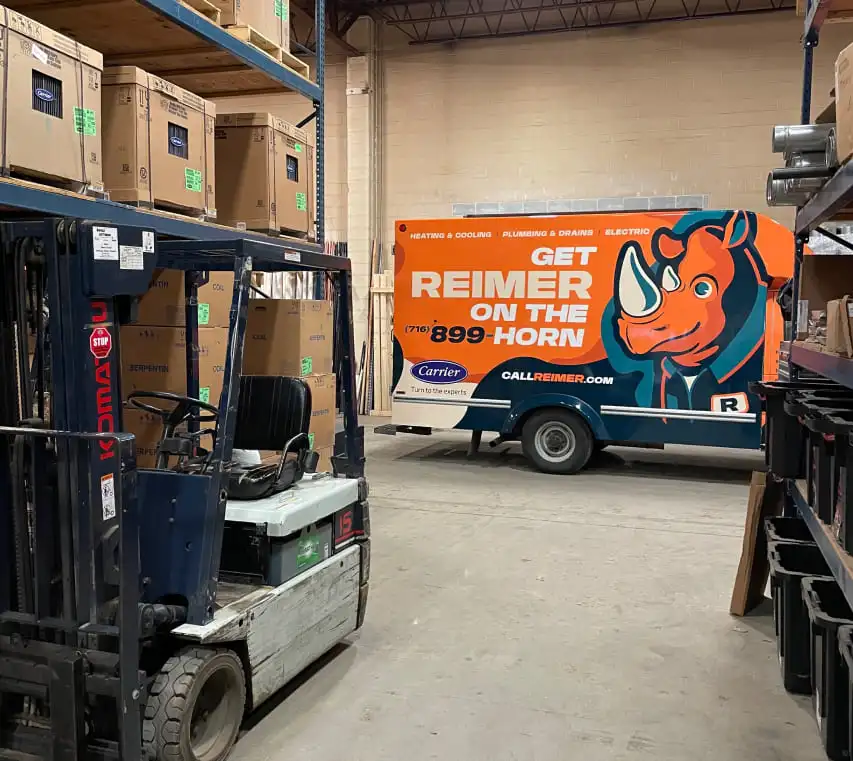 WE'VE GOT YOU COVERED
Maintenance Plans
Since 1921, our team of Western NY's top notch service specialists have been serving the area and caring for thousands of customers. At Reimer, we do everything in our power to ensure that your home comfort system works efficiently and effectively every time you turn it on.
Multi-Point System Inspection
Calibrate System for Efficiency
Ensure Proper Airflow
Maintain System Warranties
Reduces Unexpected Breakdowns
Evaluate Filtration & Indoor Air Quality
Routine Maintenance Leads to Reduced Utility Bills and Extends the Life of your System(s)
View Maintenance Plans
Call us for fast, reliable service.
Day or Night HVAC services in Niagara Falls, NY.
On the coldest night of the year, your furnace repair cannot wait "another day." You need it fixed now. Call us for Day or Night emergency HVAC repair here in Niagara Falls, NY.
YEARS OF
EXPERIENCE
Since 1921
Air Conditioning, Heating & Plumbing Repair in Buffalo, New York.
For decades, local homeowners have trusted the team at Reimer Home Services with all their home service needs. We're your HVAC company in Buffalo. We're your plumbers here in Western New York. Above all else, we're here for you and your home.
You can count on our team to be there when you need us. In fact, we're available Day or Night. Your home's problems can't wait, and neither should you. Call us and let us know how our plumbers and techs can help.
We're your local home services team…
Chris and Kevin were excellent! The issue involved plumbing. Accomplished all that was needed at the time. They are returning for additional work as well. The annual contract has great value , and gives homeowner piece of mind when problems arise! I just signed up for mine!
-Kitty Testa
Chris L. Is a wonderful man. Put my mind at ease immediately when he looked at the problems which turned out not to be as bad as we thought. I will definitely use them again. Great service!
-Janice Kaled
Chris Reimer was at my home and did a great job was very nice guy to have work in my home and gave me no run arounds. I would for sure use again thank you very much!!
-Matthew Dillon
Call us for cooling and heating.
We're Niagara Falls' HVAC experts.
Friendly service from local pros.
Your can count on our team.
For many of our techs, responding to a service call in Niagara Falls isn't just going out on a job—it's coming home. Many members of our team are from here or currently live here.
Our techs are experienced experts.
They live and work here in town.
Our team believes in great service.
Trusted throughout Western NY.
We're your Niagara Falls HVAC team.
When you call us for furnace repair or air conditioner service here in Niagara Falls, NY, we'll send out one of our experienced and friendly technicians. We have Day or Night service available.
We've served locals since 1921.
We help homes stay comfortable.
Our work is guaranteed.
Outstanding service since 1921.
Here's why you should call us.
Save even more with a seasonal tune-up.
From our monthly coupons and specials to our fair prices, we're all about helping homeowners save money. Utility bills—especially in the winter—are among the largest expenses for most families here in Niagara Falls, and a majority of that bill comes from running your heater. This is why seasonal tune-ups make sense. Not only can they lower your monthly energy bills by making your heater run more efficiently, but they also reduce the risk of a breakdown and extend the lifespan of your furnace.
Trust in our 100% satisfaction guarantee.
We're a company that exists because of our customers and for our customers. For generations, homeowners in Niagara Falls have trusted us with their home's cooling and heating needs. We've built our positive reputation by providing outstanding service from a friendly team, and then backing up our work with our 100% satisfaction guarantee.
Our friendly, experienced experts are ready to help.
What makes Reimer's technicians special is more than just training or having access to the right tools of the trade. It's being dedicated to their craft and to our customers. All of our HVAC technicians are career professionals who believe in going that extra mile for you and your home, whether that's taking the time to breakdown a problem for a local homeowner or doing an extra safety check on their furnace.
Save on your AC or heating service.
You work hard for every dollar that comes into your home. You deserve better than being overcharged for HVAC services. That's why we offer the very best in local cooling and heating work at fair, honest prices. Plus, you can save even more with our monthly coupons and specials. Check them out and start saving!
We stand by our HVAC services.
Backed by our 100% satisfaction guarantee.
To give all our customers the peace of mind they deserve, we back our work with our 100% satisfaction guarantee. If you're not completely satisfied with our service, or believe something hasn't been done right, let us know. We'll talk it through with you and take steps to make it right.
We also offer these HVAC services.
In addition to the services listed above, you and your home can count on Reimer for all your heating and cooling in Niagara Falls, NY. Here are some of the other common service calls we get here in town:
Call us for AC & heating service.
The Wizard of Comfort is here to help.
You've probably seen our service vehicles around town, carrying the face of the Wizard of Comfort: Richard M. Reimer. When he went out on his first service call in 1921, our founder probably never imagined the company he led would—a century later—be Western New York's finest home services company. Yet, it's his leadership and service excellence that guide us today.
Throughout the decades, our community has seen good times and weathered tough downturns. The homeowners and businesses of Niagara Falls have stood strong through it all. We're proud to be part of this community and provide you with the very best in local service.
For all your heating and cooling needs, there's just one name to call on: Reimer.
Factory Authorized Carrier Dealer
Reimer is proud to be a Factory Authorized Carrier Dealer offering a 100% Satisfaction Guarantee. We are so confident that you will be comfortable – not only with your Carrier heating and cooling products but with us as a Carrier Factory Authorized Dealer – that we back it up with a 100% satisfaction guarantee. If, for any reason, you are dissatisfied with your Carrier equipment within one year