Imagine a chilly winter night in Hamburg, NY, and your heating system stops working. Or, it's a scorching summer afternoon and your air conditioning suddenly fails.
Not quite the picture of comfort, right?
As your trusted local provider for HVAC and plumbing services, we ensure that these scenarios remain just that – scenarios.
For years, our team of seasoned professionals has been delivering top-quality, efficient solutions, turning houses into homes with perfect temperatures.
With a reputation built on trust, expertise, and superior customer service, we've become a household name for HVAC & plumbing services in Hamburg, NY.
Want to learn more about our services? Don't hesitate to reach out—call (716) 272-2371 for details!
Your Go-To for Cooling Services in Hamburg, NY
Summer in Hamburg, NY can be a beautiful time of year, but it can also bring scorching heat waves. Reimer HVAC offers a comprehensive suite of cooling services, aimed at ensuring your AC system performs at its peak, keeping your home an oasis of cool comfort all summer long.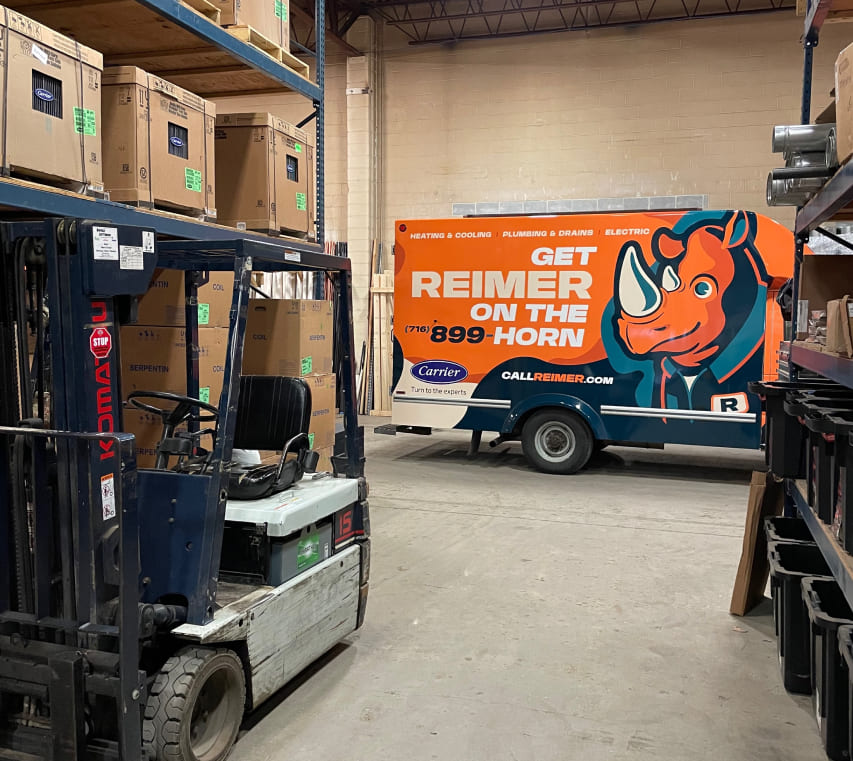 WE'VE GOT YOU COVERED
Maintenance Plans
Since 1921, our team of Western NY's top notch service specialists have been serving the area and caring for thousands of customers. At Reimer, we do everything in our power to ensure that your home comfort system works efficiently and effectively every time you turn it on.
Multi-Point System Inspection
Calibrate System for Efficiency
Ensure Proper Airflow
Maintain System Warranties
Reduces Unexpected Breakdowns
Evaluate Filtration & Indoor Air Quality
Routine Maintenance Leads to Reduced Utility Bills and Extends the Life of your System(s)
View Maintenance Plans
Contact Reimer Home Services for Your Air Conditioning, Heating, & Plumbing Repair Needs in Hamburg, NY
When it comes to maintaining your home's comfort and safety, there's no room for compromises. That's why Reimer Home Services stands as your steadfast partner, committed to offering top-tier HVAC and plumbing services in Hamburg, NY. With our team of seasoned experts and customer-centric approach, we've been changing the face of home services one household at a time.
Don't leave your home's comfort and efficiency to chance. Choose the best HVAC & plumbing services in Hamburg, NY. Contact Reimer HVAC to schedule an appointment today and experience the difference!
YEARS OF
EXPERIENCE
Since 1921
Air Conditioning, Heating & Plumbing Repair in Buffalo, New York.
For decades, local homeowners have trusted the team at Reimer Home Services with all their home service needs. We're your HVAC company in Buffalo. We're your plumbers here in Western New York. Above all else, we're here for you and your home.
You can count on our team to be there when you need us. In fact, we're available Day or Night. Your home's problems can't wait, and neither should you. Call us and let us know how our plumbers and techs can help.
We're your local home services team…
Chris and Kevin were excellent! The issue involved plumbing. Accomplished all that was needed at the time. They are returning for additional work as well. The annual contract has great value , and gives homeowner piece of mind when problems arise! I just signed up for mine!
-Kitty Testa
Chris L. Is a wonderful man. Put my mind at ease immediately when he looked at the problems which turned out not to be as bad as we thought. I will definitely use them again. Great service!
-Janice Kaled
Chris Reimer was at my home and did a great job was very nice guy to have work in my home and gave me no run arounds. I would for sure use again thank you very much!!
-Matthew Dillon
Factory Authorized Carrier Dealer
Reimer is proud to be a Factory Authorized Carrier Dealer offering a 100% Satisfaction Guarantee. We are so confident that you will be comfortable – not only with your Carrier heating and cooling products but with us as a Carrier Factory Authorized Dealer – that we back it up with a 100% satisfaction guarantee. If, for any reason, you are dissatisfied with your Carrier equipment within one year
Our plumbers fix it all.
Our team works with all makes and models.