HAVE US SAFELY THAW OUT YOUR PIPES.
We fix frozen pipes in Buffalo.
Our winters here in Buffalo are infamously and brutally cold. Every year, pipes freeze in thousands of homes here in Western New York.
If your home's pipes have frozen, call us right away. Our plumbers are available Day or Night. Your frozen pipes cannot wait: a frozen pipe is at risk of bursting and flooding your home.
We also help local homeowners prevent frozen pipes by installing insulating sheathing.
For speedy service here in Buffalo and Erie County, call us or request service online.
We're available Day or Night to help you.
We offer a 100% satisfaction guarantee.
Our plumbers are frozen pipe experts.
We believe in upfront, honest pricing.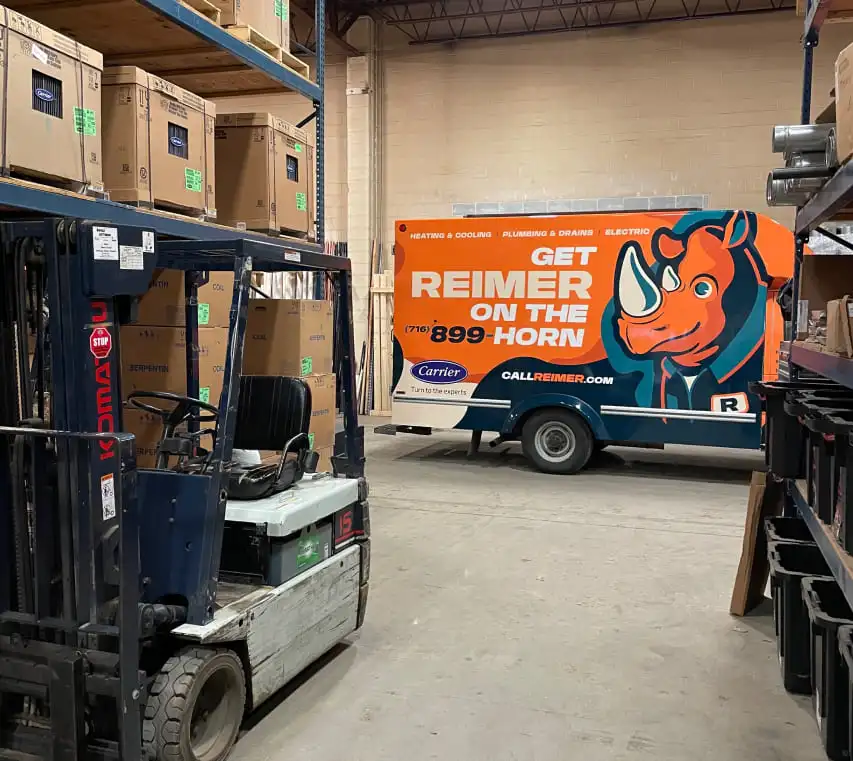 WE'VE GOT YOU COVERED
Maintenance Plans
Since 1921, our team of Western NY's top notch service specialists have been serving the area and caring for thousands of customers. At Reimer, we do everything in our power to ensure that your home comfort system works efficiently and effectively every time you turn it on.
Multi-Point System Inspection
Calibrate System for Efficiency
Ensure Proper Airflow
Maintain System Warranties
Reduces Unexpected Breakdowns
Evaluate Filtration & Indoor Air Quality
Routine Maintenance Leads to Reduced Utility Bills and Extends the Life of your System(s)
View Maintenance Plans
YEARS OF
EXPERIENCE
Since 1921
Air Conditioning, Heating & Plumbing Repair in Buffalo, New York.
For decades, local homeowners have trusted the team at Reimer Home Services with all their home service needs. We're your HVAC company in Buffalo. We're your plumbers here in Western New York. Above all else, we're here for you and your home.
You can count on our team to be there when you need us. In fact, we're available Day or Night. Your home's problems can't wait, and neither should you. Call us and let us know how our plumbers and techs can help.
We're your local home services team…
Chris and Kevin were excellent! The issue involved plumbing. Accomplished all that was needed at the time. They are returning for additional work as well. The annual contract has great value , and gives homeowner piece of mind when problems arise! I just signed up for mine!
-Kitty Testa
Chris L. Is a wonderful man. Put my mind at ease immediately when he looked at the problems which turned out not to be as bad as we thought. I will definitely use them again. Great service!
-Janice Kaled
Chris Reimer was at my home and did a great job was very nice guy to have work in my home and gave me no run arounds. I would for sure use again thank you very much!!
-Matthew Dillon
Our plumbers are available Day or Night.
If your pipes have frozen or burst, call us right away. We're available Day or Night throughout Buffalo and Erie County. We'll send out one of our plumbers as soon as possible to safely thaw out or repair your pipes.
Call or contact us anytime.
We can help protect your pipes from freezing.
Schedule your furnace tune-up.
Most frozen pipes start with a furnace breakdown. Once the home loses heat, your pipes are at risk. It's why preventative maintenance is so important. Have us get your furnace ready for winter.
We install protective sheathing.
If your home is no longer heated, the temperature in your exterior walls will start to drop dramatically. Insulated pipe sheathing slows down the heat loss from pipes, slowing the freezing process.
Have us inspect your water heater.
A functioning water heater can protect the hot water lines in your home. Schedule an annual inspection for your home's water heater ahead of winter so that we can ensure it's working right.
Our 100% satisfaction guarantee.
We'll always stand by the work we do. That's why all of our work comes backed by our 100% satisfaction guarantee. If you're not completely satisfied with our plumbing services, please let us know. We'll talk it through with you and figure out how to make it right.
Proud to serve Buffalo and Western New York.
From Niagara Falls to Orchard Park and all points in-between, we're Western New York's local heating, cooling, and plumbing pros. No matter where you live in the Buffalo area, you can count on Reimer to be there for your home with our fast, Day or Night service.
Click the link below to see all the communities we serve, and to contact us for service.
Can't I thaw out my pipes myself?
You've probably seen online guides or videos showing you how to do thaw out your home's frozen pipes. It might look straightforward enough, but it can actually be incredibly dangerous. Applying the sudden heat of a hairdryer or boiling water to a frozen pipe could cause it to burst. Never use an open flame source, such as a propane torch. This can damage the pipe material and lead to significant plumbing issues down the road.
What if I live in an apartment or condo?
First, call your landlord or property manager and tell them about the problem. Chances are, if your pipes have frozen, those in surrounding units have, as well. They'll need to turn water off to the building so that our plumbers can start the process of thawing out the frozen pipes or making repairs to the pipes themselves.
Does leaving faucets dripping help?
Yes. On the coldest nights of the year, keeping the water in your pipes moving can be beneficial and help prevent your pipes from freezing. To do this, leave your kitchen or bathroom sink faucet at an ever-so-slight drip. There are other, highly effective ways to prevent frozen pipes. One is having our plumbers install insulating sheathing around your pipes in exterior walls. This slows down the loss of heat in the event your furnace stops working, buying your home several hours.
Will my pipes thaw on their own?
Yes. It's just physics: eventually, all the ice in your pipes will thaw out. However, you don't necessarily want to wait around for that to happen. As the ice begins to thaw, the presence of water can actually increase the pressure on the interior pipe walls, which in turn increases the risk of the pipe bursting. Many pipe bursts occur when homeowners elect to do nothing. In effect, they're taking a big chance with their home's plumbing.
Buffalo's best plumbing team.
We're proud to have Buffalo's top plumbers working under our roof. Call us for Day or Night service, and we'll send one of these friendly experts out to your home to handle any plumbing issue you're facing.
Our plumbers handle all projects.
All our plumbers are certified.
Our team is background-checked.
Upfront, honest pricing.
Our company offers fair and honest estimates, and then stands by them. We'll always tell you what your plumbing repair should cost before getting started, and get your approval before we do.
Factory Authorized Carrier Dealer
Reimer is proud to be a Factory Authorized Carrier Dealer offering a 100% Satisfaction Guarantee. We are so confident that you will be comfortable – not only with your Carrier heating and cooling products but with us as a Carrier Factory Authorized Dealer – that we back it up with a 100% satisfaction guarantee. If, for any reason, you are dissatisfied with your Carrier equipment within one year