Welcome to Reimer, your trusted partner for top-tier electrical services in Western New York. Building on our century-long legacy of exceptional home services, we're proud to introduce our newly expanded electrical services tailored to meet the evolving needs of local homeowners.
Our electrical services are designed with your home's safety, efficiency, and convenience in mind. From panel replacements to upgrades, light and outlet installations to electric car charger installations, our team delivers unmatched expertise in every task.
We understand the intricacies of modern electrical needs, and we're ready to power your home in the safest and most efficient manner.
Choosing Reimer means entrusting your home to a team of professionals dedicated to exceptional service and customer satisfaction.
We're not just about fixing problems; we're about creating solutions that improve the comfort and safety of your home, ensuring your electrical systems are reliable, robust, and ready to meet the demands of modern living.
At Reimer, we promise to light up your homes with the highest standard of electrical services. We're here to power your lives, ensuring your home remains a safe and comfortable haven.
In a world of changing technology and evolving needs, choose Reimer—your partner in exceptional electrical services.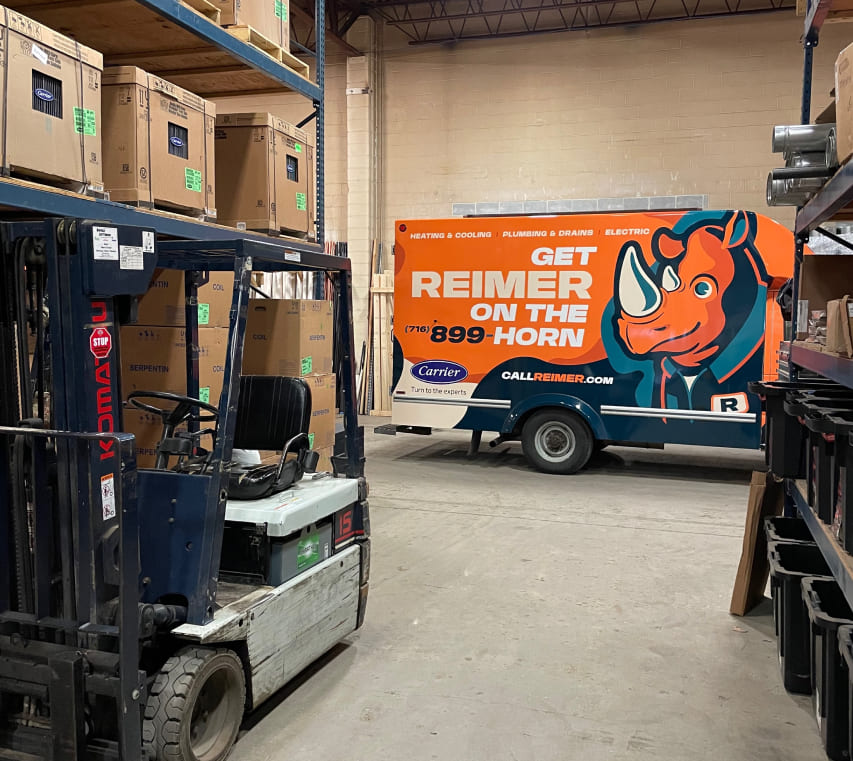 WE'VE GOT YOU COVERED
Maintenance Plans
Since 1921, our team of Western NY's top notch service specialists have been serving the area and caring for thousands of customers. At Reimer, we do everything in our power to ensure that your home comfort system works efficiently and effectively every time you turn it on.
Multi-Point System Inspection
Calibrate System for Efficiency
Ensure Proper Airflow
Maintain System Warranties
Reduces Unexpected Breakdowns
Evaluate Filtration & Indoor Air Quality
Routine Maintenance Leads to Reduced Utility Bills and Extends the Life of your System(s)
View Maintenance Plans
Why Choose Reimer for Your Electrical Needs in Western NY?
When it comes to electrical services, quality of work and safety are paramount. At Reimer, we are committed to delivering top-notch services, characterized by superior craftsmanship, professionalism, and customer-centric service. For us, the job isn't complete until you're completely satisfied.
Our team of electricians is certified, ensuring they have the knowledge and expertise necessary to handle a wide range of electrical tasks. They undergo regular training to stay up-to-date with the latest industry standards and techniques. This commitment to continuous improvement means you can count on us to deliver the highest level of service, every time.
But that's not all. We're fully insured for your peace of mind. This means we've taken measures to protect you, your property, and our team. We also hold all the necessary permits and follow all local codes and regulations.
Moreover, we've earned a reputation as a trusted service provider over our many years of service. Our track record speaks for itself, as countless homeowners in Western New York rely on us for their electrical needs.
Choosing Reimer means choosing an ally who takes your electrical needs as seriously as you do. With us, you can expect reliable, safe, and high-quality electrical services.
YEARS OF
EXPERIENCE
Since 1921
Air Conditioning, Heating & Plumbing Repair in Western New York.
For decades, local homeowners have trusted the team at Reimer Home Services with all their home service needs. We're your HVAC company in Buffalo. We're your plumbers here in Western New York. Above all else, we're here for you and your home.
You can count on our team to be there when you need us. In fact, we're available Day or Night. Your home's problems can't wait, and neither should you. Call us and let us know how our plumbers and techs can help.
We're your local home services team…
Chris and Kevin were excellent! The issue involved plumbing. Accomplished all that was needed at the time. They are returning for additional work as well. The annual contract has great value , and gives homeowner piece of mind when problems arise! I just signed up for mine!
-Kitty Testa
Chris L. Is a wonderful man. Put my mind at ease immediately when he looked at the problems which turned out not to be as bad as we thought. I will definitely use them again. Great service!
-Janice Kaled
Chris Reimer was at my home and did a great job was very nice guy to have work in my home and gave me no run arounds. I would for sure use again thank you very much!!
-Matthew Dillon
Reimer Electrical Services
At Reimer, we offer a comprehensive suite of electrical services tailored to meet the unique needs of every homeowner in Western New York.
As a trusted partner in home electrical solutions, we're dedicated to ensuring that our services not only meet but exceed your expectations.
Electrical Panel Replacements
Your home's electrical panel is the heart of your electrical system. It's where power from your utility company enters your home and is then distributed to your various electrical circuits.
Over time, these panels can wear out, become obsolete, or prove inadequate for your home's growing power needs. That's where panel replacements come in.
Panel replacement involves removing your old electrical panel and installing a new one that's capable of handling your home's electrical demands more efficiently and safely.
Homeowners may need this service if their current panel is old, frequently trips breakers, or if they're adding more electrical appliances or upgrading their home.
At Reimer, we excel in providing comprehensive panel replacement services. Our certified electricians have the skills and knowledge to carry out these replacements safely and effectively, adhering to all local and national electrical codes.
We take the time to understand your specific electrical needs and recommend solutions that are not only safe and reliable but also future-proof. With Reimer, you get an upgraded electrical system that's ready to power your modern life safely and efficiently.
Electrical Upgrades
An electrical upgrade involves enhancing your home's electrical system to accommodate higher power capacity. This can include replacing your old electrical panel, adding more circuits or outlets, or upgrading wiring to better serve your electrical appliances and devices.
Electrical upgrades come with several benefits. They can help prevent frequent circuit breaker trips, reduce the risk of electrical fires, and enable your system to handle modern electrical appliances without straining.
Furthermore, an upgrade can enhance the overall safety of your home, improve energy efficiency, and potentially increase your property's value.
Choosing Reimer for your electrical upgrades means entrusting your home to seasoned professionals. We conduct thorough assessments to determine the exact needs of your home's electrical system and then recommend upgrades that enhance safety, efficiency, and capacity.
Our team's expertise, combined with our commitment to quality and satisfaction, makes Reimer the ideal choice for all your electrical upgrade needs.
Electrical Rewires
Rewiring is the process of replacing old or faulty electrical wiring within your home. It's an important service, especially for older homes, as outdated or deteriorated wiring can pose serious safety risks, including the potential for electrical fires.
Outdated wiring may not meet modern safety standards or be able to accommodate the power demands of contemporary appliances and technology. If your home experiences frequent breaker trips, flickering lights, or if you have ungrounded two-prong outlets, it might be time to consider rewiring.
At Reimer, we provide superior rewiring services, offering peace of mind and improved home safety. Our certified electricians meticulously replace old wiring with high-quality, modern alternatives that meet all safety regulations.
We assess your home's unique needs, recommending and implementing solutions that enhance your electrical system's safety, capacity, and efficiency. With Reimer, you're not just getting a service, you're investing in your home's longevity and your family's safety.
Outlet Installation
Proper outlet installation is vital to both the safety and convenience of your home. With the right outlets in the right places, you can efficiently power your appliances, electronics, and lighting without overloading your system or resorting to potentially dangerous extension cords.
There are many scenarios where additional outlets might be necessary. For instance, you may have renovated your home, added new appliances, or perhaps you find that your current outlets are inconveniently located. Installing new outlets in these situations can help distribute electricity evenly and reduce the risk of overloading circuits.
At Reimer, we specialize in safe and efficient outlet installation. Our team of certified electricians adheres strictly to safety standards, ensuring every outlet is properly wired and optimally positioned for your convenience.
We're meticulous in our approach, ensuring every installation enhances the functionality and safety of your home's electrical system. Trust Reimer to power your home the right way.
Light Installation
Proper lighting plays a critical role in creating a comfortable and aesthetically pleasing environment within your home. It can also contribute to energy efficiency and safety.
Whether you're interested in illuminating a specific area, highlighting architectural features, or upgrading to energy-efficient LED lighting, Reimer is the team to call.
Light installation involves much more than simply affixing a fixture to the ceiling or wall. It requires careful planning, accurate wiring, and meticulous installation – tasks that should be entrusted to a professional.
Not only can we handle these technicalities, but we can also help you make informed decisions about what types of lights and fixtures would best serve your needs and preferences.
We at Reimer specialize in professional light installation services, combining technical prowess with an understanding of aesthetics and functionality.
We take pride in enhancing your home's comfort, beauty, and energy efficiency through carefully planned and executed light installations. Trust us to brighten up your home in the best way possible.
Electric Car Charger (EV Charger) Installation
As electric vehicles (EVs) continue to surge in popularity, more and more homeowners find themselves needing a convenient and reliable home charging solution. An in-home electric car charger isn't just a trendy accessory; it's becoming a crucial component of modern living.
With an electric car charger installed at home, you can conveniently refuel your vehicle overnight, ensuring it's ready for use each day.
No more trips to the charging station, no more waiting in line. Instead, you get a reliable and quick charging solution right in your driveway or garage.
At Reimer, we're helping homeowners smoothly transition into the era of electric vehicles. We offer professional electric car charger installation services, designed to integrate seamlessly into your home's existing electrical system.
Our certified electricians ensure the installation is done correctly, adhering to all safety regulations and guidelines, providing you with an efficient, safe, and reliable home charging solution. With Reimer, adapting to the future of transportation is as easy as plugging in.
Surge Protection Services
The modern home is filled with valuable electronics and appliances, all of which are vulnerable to damage from electrical power surges. These sudden spikes in voltage can occur for a variety of reasons, from lightning strikes to grid fluctuations, and can cause considerable harm to your sensitive electronics.
Whole-house surge protection is an effective and proactive approach to safeguard your valuable devices. It's designed to regulate the electrical current within your home, preventing dangerous over-voltages from reaching your appliances and electronics.
Reimer HVAC provides professional surge protection services, installing high-quality whole-house surge protectors to keep your home safe. Our trained and experienced electricians will ensure your system is designed to manage any sudden power surge, regardless of its cause.
We're committed to protecting your home and its valuable contents from the unpredictable and potentially devastating effects of power surges. Trust Reimer to provide the protection your home needs.
Electrical Safety Inspections
Electrical safety inspections are an essential part of maintaining a safe and efficient home. They involve a comprehensive examination of your home's entire electrical system, checking for any potential hazards or inefficiencies that could lead to problems down the line.
A properly functioning electrical system not only powers your home but also ensures the safety of your loved ones. Faulty wiring, outdated panels, or overburdened circuits can all pose serious safety risks, including the potential for electrical fires.
At Reimer, we offer thorough electrical safety inspections, conducted by our certified electricians. They'll meticulously examine your system, from the circuit breakers to the light switches, ensuring everything is in optimal condition. If any issues are found, we'll provide you with a detailed report and recommend the necessary remedial actions.
Our aim is to ensure your home's electrical system is not just running, but running safely and efficiently. With Reimer, you can have peace of mind knowing your home is in safe hands.
Emergency Electrical Services
Electrical issues don't follow a 9-to-5 schedule. They can spring up at any time, often without warning. Whether it's a complete power outage, a sparking outlet, or a tripped circuit breaker, such problems can disrupt your everyday life and, in some cases, pose significant safety risks.
When these unexpected incidents occur, you need a reliable team on your side. That's where Reimer comes in. We offer emergency electrical services designed to address and resolve your electrical issues promptly and efficiently, minimizing downtime and ensuring your home's safety.
Our team of certified electricians is on-call 24/7, ready to respond swiftly to your emergency call. They're equipped with the skills and tools necessary to diagnose and fix a wide range of electrical issues.
With our prompt and reliable service, we aim to restore your home's electrical function as quickly and as safely as possible, no matter the hour. At Reimer, your electrical emergency is our top priority.
Specialization in Older Homes
Older homes hold a unique charm and a sense of history. However, they also pose particular challenges when it comes to electrical systems.
Outdated wiring, insufficient power supply, and obsolete panels are just a few issues that older homes might face. These issues not only limit the home's functionality but can also pose significant safety hazards.
At Reimer, we specialize in navigating these challenges. Our experience with older homes equips us to handle the intricacies and peculiarities of aged electrical systems. We know how to update these systems safely and efficiently, all while preserving the character and integrity of your home.
Whether it's a panel replacement, a complete rewiring, or an upgrade to accommodate modern appliances, we have the expertise to execute the job effectively. Our goal is to bring your older home up to speed with today's electrical demands without losing its historical charm. With Reimer HVAC, you can trust your beloved older home is in capable and caring hands.
Our Process and What to Expect
Choosing Reimer for your electrical needs means choosing a service that values transparency, communication, and utmost professionalism. Our service process is designed to keep you informed and involved from the first contact until the completion of the work, ensuring your satisfaction at every stage.
It all starts with a simple call or online request. Our friendly customer service team will take the time to understand your needs and schedule a suitable time for our certified electricians to visit your home. We respect your time and aim to respond promptly and conveniently to your service request.
During the initial visit, our electricians conduct a thorough assessment of your electrical system. They take the time to explain their findings, answer your questions, and offer their professional advice. This is followed by a comprehensive, no-obligation quote that outlines the cost of the services needed, with no hidden fees or surprises.
Once you give us the green light, we get to work. Our electricians carry out the necessary services efficiently, adhering to the highest safety standards and industry best practices. Throughout the process, we ensure open communication, updating you on the progress and addressing any concerns you may have.
We believe that the completion of the work is just one phase of our service. After the job is done, we leave your home as clean as we found it, but with a significantly improved electrical system. Our commitment to you continues even after our technicians leave your property. We provide thorough after-service support, ready to answer any questions or handle any concerns that may arise post-service.
In addition, we stand by the quality of our work and offer robust warranties and guarantees. Our goal is not only to fix your current electrical issues but also to provide a solution that stands the test of time.
At Reimer, we're not just offering an electrical service, we're establishing a long-term relationship built on trust, quality, and exceptional customer care.
Power Up Your Home in Western New York
Schedule Your Electrical Service Today!
Are you ready to experience the exceptional electrical services provided by Reimer? Don't hesitate to take the next step. Contact us today at (716) 694-8524 to discuss your electrical needs and schedule an appointment with our certified electricians.
Alternatively, you can conveniently fill out our  online booking form
Our team will promptly get in touch with you to arrange a suitable time for our experts to visit your home.
Rest assured, your satisfaction is our top priority. We stand behind our work with a 100% satisfaction guarantee, ensuring that we will not rest until you are completely satisfied with our service.
Day and night, Reimer is here to serve you. We understand that electrical issues can occur at any time, which is why we offer 24/7 emergency services. Whenever you need us, we'll be there to provide prompt and reliable assistance.
Don't settle for less when it comes to your home's electrical needs. Choose Reimer, the trusted name in Western New York. Contact us today and let us take care of all your electrical service requirements.
Factory Authorized Carrier Dealer
Reimer is proud to be a Factory Authorized Carrier Dealer offering a 100% Satisfaction Guarantee. We are so confident that you will be comfortable – not only with your Carrier heating and cooling products but with us as a Carrier Factory Authorized Dealer – that we back it up with a 100% satisfaction guarantee. If, for any reason, you are dissatisfied with your Carrier equipment within one year