Great service throughout Buffalo.
Boiler Repair, Service & Installs
We're Buffalo's boiler experts! Our team fixes, maintains, and installs boilers here in Erie County. For all your radiant heating system needs, Reimer is here for you. Is your boiler having trouble? We can help. Call us right away. We're available Day or Night to solve your boiler problems and get your home back to a comfortable temperature.
Our repairs are backed by our 2-year guarantee.
Our technicians are true boiler experts.
100% satisfaction guarantee.
We're a Carrier Factory-Authorized Dealer.
Interest and no payments up to 12 months on all products!*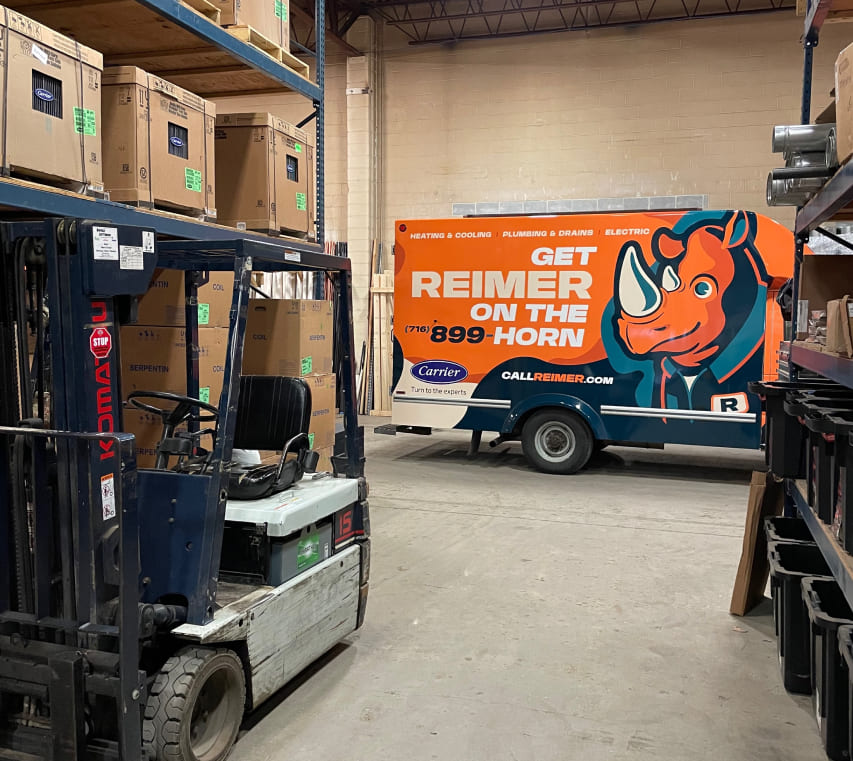 WE'VE GOT YOU COVERED
Maintenance Plans
Since 1921, our team of Western NY's top notch service specialists have been serving the area and caring for thousands of customers. At Reimer, we do everything in our power to ensure that your home comfort system works efficiently and effectively every time you turn it on.
Multi-Point System Inspection
Calibrate System for Efficiency
Ensure Proper Airflow
Maintain System Warranties
Reduces Unexpected Breakdowns
Evaluate Filtration & Indoor Air Quality
Routine Maintenance Leads to Reduced Utility Bills and Extends the Life of your System(s)
View Maintenance Plans
We're Buffalo's boiler experts.
We're here for everything your boiler needs.
Repairs
If your boiler stops working, call us right away. We're available Day or Night to help fix your radiant heating system. Our team works with all makes and models and we back our work with our 2-year guarantee.
Tune-Ups
Have one of our boiler experts inspect your radiant heating system before winter arrives. We offer comprehensively thorough boiler tune-ups, designed to maximize your boiler's energy efficiency.
New Installs
Need a new boiler installed in your home? Not a problem! Call us to get a free in-home estimate on a new radiant heating system. We'll come out and give you a quote on a new, energy-efficient boiler.
YEARS OF
EXPERIENCE
Since 1921
Air Conditioning, Heating & Plumbing Repair in Buffalo, New York.
For decades, local homeowners have trusted the team at Reimer Home Services with all their home service needs. We're your HVAC company in Buffalo. We're your plumbers here in Western New York. Above all else, we're here for you and your home.
You can count on our team to be there when you need us. In fact, we're available Day or Night. Your home's problems can't wait, and neither should you. Call us and let us know how our plumbers and techs can help.
We're your local home services team…
Chris and Kevin were excellent! The issue involved plumbing. Accomplished all that was needed at the time. They are returning for additional work as well. The annual contract has great value , and gives homeowner piece of mind when problems arise! I just signed up for mine!
-Kitty Testa
Chris L. Is a wonderful man. Put my mind at ease immediately when he looked at the problems which turned out not to be as bad as we thought. I will definitely use them again. Great service!
-Janice Kaled
Chris Reimer was at my home and did a great job was very nice guy to have work in my home and gave me no run arounds. I would for sure use again thank you very much!!
-Matthew Dillon
Our boiler services are guaranteed.
Backed by our 100% guarantee.
When you have us make a repair to your boiler or radiator, we guarantee that repair for two years after service. If our new part or repair breaks again, call us, and we'll come back out and fix it. It's our pledge to you.
We have Day or Night service available.
Having boiler problems?
Is your boiler not working properly? On a cold winter morning, there's arguably few things worse than finding out your boiler stopped working overnight. Call us. We're available Day or Night to help you and your home. We'll dispatch a boiler repair expert out to your home as soon as possible to inspect, diagnose, and fix your system.
All you have to do is call us when you need us, and we'll be there.
Everything you need to know about boilers.
How do boilers work?
Like water heaters, boilers heat water using gas or electricity. However, this water stays in a closed loop. The water is sent out through lines to radiators throughout the home. As the water passes through the radiator, its heat energy is released into that room's air, heating the room. This cooled water is circulated back to the boiler, where it's reheated, and the cycle repeats until the home reaches the desired temperature and comfort level.
Are boilers more efficient than furnaces?
Generally speaking, radiant heating systems are more energy-efficient than forced-air systems. Water is a better conduit for heat than air. For a traditional gas or electric furnace, a great deal of energy loss occurs in the ducts as heated air is transported from the blower to the rooms of the home. Radiant heating systems are much more efficient at moving heat to the radiator. This makes a gas boiler one of the most-efficient forms of heating available.
What is radiant floor heating?
In some homes, the lines carrying heated water from the boiler to the radiators are laid under the floor boards or tile, so that the heat radiating out from those lines heats up the home's floors. If you're interested in installing radiant floor heating in your home, talk to us so we can discuss your options and next steps.
We're here for local homeowners.
Proud to serve Buffalo and Western New York.
From Niagara Falls to Orchard Park and all points in between, we're Western New York's local heating, cooling, and plumbing pros. No matter where you live in the Buffalo area, you can count on Reimer to be there for your home with our fast, Day or Night service.
Click the link below to see all the communities we serve, and to contact us for service.
Factory Authorized Carrier Dealer
Reimer is proud to be a Factory Authorized Carrier Dealer offering a 100% Satisfaction Guarantee. We are so confident that you will be comfortable – not only with your Carrier heating and cooling products but with us as a Carrier Factory Authorized Dealer – that we back it up with a 100% satisfaction guarantee. If, for any reason, you are dissatisfied with your Carrier equipment within one year