Your team for seasonal tune-ups.
Schedule your AC tune-up now.
Call us to schedule your AC tune-up in Buffalo and Western New York. Throughout Erie County and both Northtown and Southtown, Reimer's technicians help get homes ready for the summer ahead with our thorough, multipoint inspection and maintenance service.
When it comes to your home's air conditioner, preventative maintenance isn't optional. It's what keeps your system running efficiently and effectively. It may even be a requirement of your manufacturer's warranty!
To schedule your next tune-up, call Reimer today, or contact us online.
Thorough, professional tune-ups.
Experienced, friendly cooling techs.
100% satisfaction guarantee.
Service in Buffalo & Western New York.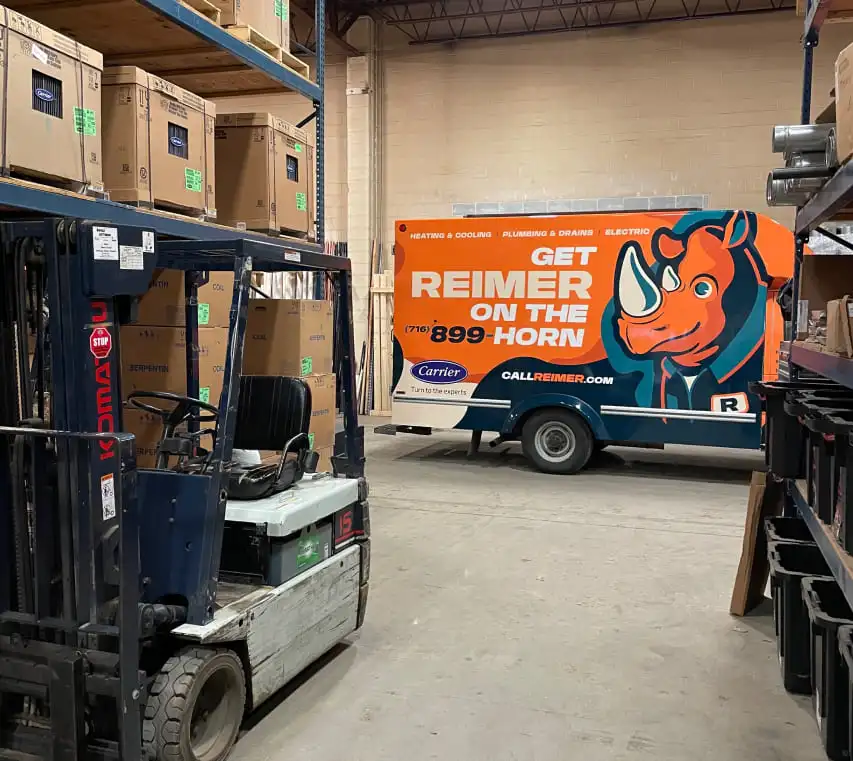 WE'VE GOT YOU COVERED
Maintenance Plans
Since 1921, our team of Western NY's top notch service specialists have been serving the area and caring for thousands of customers. At Reimer, we do everything in our power to ensure that your home comfort system works efficiently and effectively every time you turn it on.
Multi-Point System Inspection
Calibrate System for Efficiency
Ensure Proper Airflow
Maintain System Warranties
Reduces Unexpected Breakdowns
Evaluate Filtration & Indoor Air Quality
Routine Maintenance Leads to Reduced Utility Bills and Extends the Life of your System(s)
View Maintenance Plans
Here are the perks of maintenance.
Why schedule a tune-up?
Reliability
Preventative maintenance reduces the risk of a breakdown the following summer. A tune-up allows our techs to catch glaring issues early and address them before they lead to a full-on breakdown.
Efficiency
By calibrating comfort settings, cleaning the system, and fixing any issues, our tune-up should help your air conditioner run more efficiently, saving you money on your summer electric bills.
Longevity
By booking annual tune-ups with a professional team like ours, your air conditioner is better positioned to last much longer and run much better than an AC unit that goes without maintenance.
Warranty
Most new air conditioners come covered by a manufacturer's warranty that has one, big caveat: skipping annual tune-ups could void the warranty. Keep this protection intact by scheduling maintenance.
Comfort
With professional-grade maintenance from our team, your AC unit should provide your home with more consistent cooling and comfort. An AC tune-up can reduce short cycling and "hot zones" in the home.
Peace of Mind
Having your AC fail on a hot summer night is no one's idea of a good time. Our tune-ups reduce that risk, which in turn gives homeowners peace of mind and confidence in their air conditioners.
YEARS OF
EXPERIENCE
Since 1921
Air Conditioning, Heating & Plumbing Repair in Buffalo, New York.
For decades, local homeowners have trusted the team at Reimer Home Services with all their home service needs. We're your HVAC company in Buffalo. We're your plumbers here in Western New York. Above all else, we're here for you and your home.
You can count on our team to be there when you need us. In fact, we're available Day or Night. Your home's problems can't wait, and neither should you. Call us and let us know how our plumbers and techs can help.
We're your local home services team…
Chris and Kevin were excellent! The issue involved plumbing. Accomplished all that was needed at the time. They are returning for additional work as well. The annual contract has great value , and gives homeowner piece of mind when problems arise! I just signed up for mine!
-Kitty Testa
Chris L. Is a wonderful man. Put my mind at ease immediately when he looked at the problems which turned out not to be as bad as we thought. I will definitely use them again. Great service!
-Janice Kaled
Chris Reimer was at my home and did a great job was very nice guy to have work in my home and gave me no run arounds. I would for sure use again thank you very much!!
-Matthew Dillon
Our 100% satisfaction guarantee is standard.
We're a customer-focused company.
We stand by our service. If you're not completely satisfied with our AC maintenance in your Buffalo home, just let us know. We'll talk it through with you and figure out a way to resolve the situation. We're a local company that wants to do right by our local customers.
Getting an AC tune-up is easy.
You'll see the results.
With our tune-up complete, you're in for a cool and comfortable summer. Our tune-ups help prevent breakdowns, make your system more energy-efficient, and can even extend the lifespan of your AC unit.
Call our team.
Call us to schedule your next tune-up. We'll find a date that's convenient for you and then add your home to our calendar. The best time for an AC tune-up is in the spring, before our temps rise.
We'll handle the tune-up.
Our tech will thoroughly inspect the air conditioner from top-to-bottom, ensuring that there are no major problems. They'll clean components, tighten connections, check levels, and test the system.
We maintain all cooling systems.
Air Conditioners
Have one of our techs get your air conditioner ready for the summer ahead. We specialize in thorough air conditioner maintenance in Buffalo and Western New York. To schedule your tune-up, call today.
Ductless Systems
Your ductless system works year-round to keep your home comfortable. Call us, and we'll send out one of our specialists to inspect it, tune it up, and ensure it's ready for another summer of comfort.
Hybrid Systems
If your home has a hybrid system, you should be scheduling a visit from our techs twice-per-year: once in the spring, and again in the fall. Have us out to maintain your hybrid system this season.
Here's what our AC tune-ups include
Check thermostat operation
Clean or replace standard air filter
Verify your home's airflow and cooling temperature output
Check your AC's refrigerant charge and adjust as needed (refrigerant leak checks, repairs and adding refrigerant will incur additional costs quoted by your contractor)
Digitally check your AC's refrigerant charge and adjust as needed
Chemically clean outdoor condenser coil (indoor coil may require cleaning and may incur additional contractor charges)
Lubricate motors (if applicable)
Inspect all AC electrical components, including fan blades and condenser coils for wear and damage
Tighten loose electrical connections
Check and adjust fan speeds (as needed)
Inspect drain line and drain pan
Basic drain line cleaning (Severe blockages may incur additional contractor charges)
Check and digitally record air temperature differential between the supply and return air system
Digitally measure air conditioning equipment performance before and after the tune-up
We back our work with multiple guarantees
We stand by the work our great technicians and plumbers do. If you're not satisfied in any way with our service, just let us know. We'll talk it through with you and work out how to make it right by you and your home. That's the difference that working with a local company, with local roots, makes.
Factory Authorized Carrier Dealer
Reimer is proud to be a Factory Authorized Carrier Dealer offering a 100% Satisfaction Guarantee. We are so confident that you will be comfortable – not only with your Carrier heating and cooling products but with us as a Carrier Factory Authorized Dealer – that we back it up with a 100% satisfaction guarantee. If, for any reason, you are dissatisfied with your Carrier equipment within one year