Our plumbers are leak-finding pros!
Call us for leak detection and repairs.
Your home features a network of pipes. Many of them are hidden, out-of-sight and out-of-mind. You probably don't think much about them. But, when one of them starts leaking, finding the source is critical.
We specialize in leak detection and leak repair services here in Buffalo and Western New York. Our plumbers are experienced leak-finding experts.
Think you might have a leak? Call us. We're available Day or Night and can use our leak detection equipment to quickly pinpoint your leak, access it, and fix it.
We use advanced leak detection tools.
We can pinpoint the location of leaks.
Cuts down on repairs and saves you time.
Backed by our 100% guarantee.
Interest and no payments up to 12 months on all products!*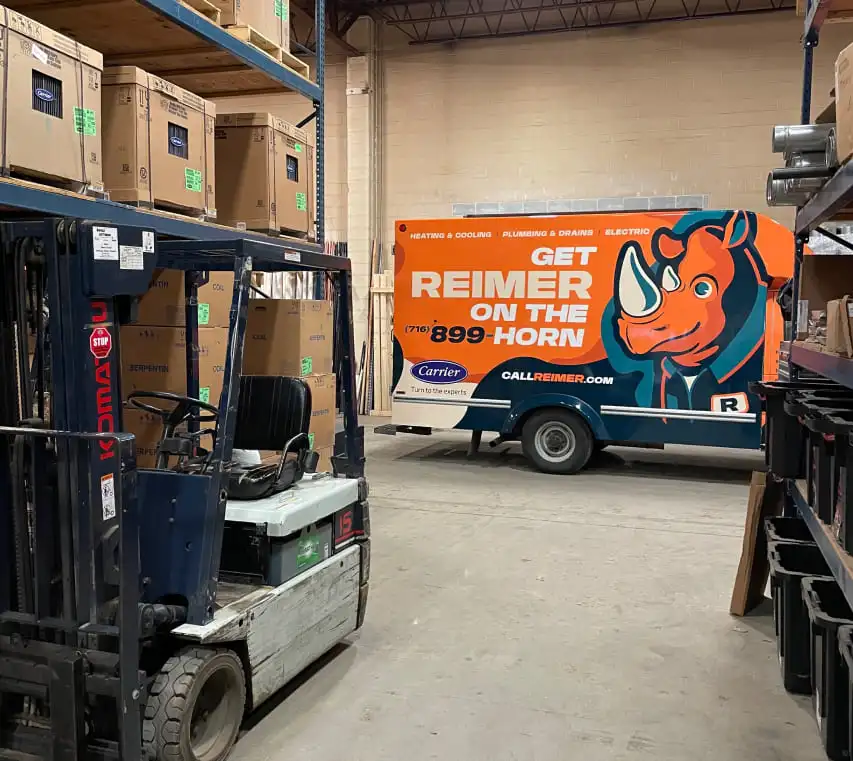 WE'VE GOT YOU COVERED
Maintenance Plans
Since 1921, our team of Western NY's top notch service specialists have been serving the area and caring for thousands of customers. At Reimer, we do everything in our power to ensure that your home comfort system works efficiently and effectively every time you turn it on.
Multi-Point System Inspection
Calibrate System for Efficiency
Ensure Proper Airflow
Maintain System Warranties
Reduces Unexpected Breakdowns
Evaluate Filtration & Indoor Air Quality
Routine Maintenance Leads to Reduced Utility Bills and Extends the Life of your System(s)
View Maintenance Plans
Our proven leak-finding process.
Our proven leak-finding process.
1
Start by giving us a call.
We have Day or Night service available. We'll send a plumber with leak detection equipment out to your home as soon as we can. We'll let you know when we're on our way out to your home.
2
We'll come out with our tools.
Our plumbers will set up our leak detection equipment. This includes a professional-grade acoustic device, designed to pinpoint the ever-so-slight sound of running water at a leak.
3
We'll find and fix the leak.
Once we've pinpointed the leak's location, we'll strategically cut into the drywall to access and repair the pipe. Our less intrusive method results in less drywall repair being needed.
YEARS OF
EXPERIENCE
Since 1921
Air Conditioning, Heating & Plumbing Repair in Buffalo, New York.
For decades, local homeowners have trusted the team at Reimer Home Services with all their home service needs. We're your HVAC company in Buffalo. We're your plumbers here in Western New York. Above all else, we're here for you and your home.
You can count on our team to be there when you need us. In fact, we're available Day or Night. Your home's problems can't wait, and neither should you. Call us and let us know how our plumbers and techs can help.
We're your local home services team…
Chris and Kevin were excellent! The issue involved plumbing. Accomplished all that was needed at the time. They are returning for additional work as well. The annual contract has great value , and gives homeowner piece of mind when problems arise! I just signed up for mine!
-Kitty Testa
Chris L. Is a wonderful man. Put my mind at ease immediately when he looked at the problems which turned out not to be as bad as we thought. I will definitely use them again. Great service!
-Janice Kaled
Chris Reimer was at my home and did a great job was very nice guy to have work in my home and gave me no run arounds. I would for sure use again thank you very much!!
-Matthew Dillon
Can't I find the leak myself?
In many cases, this is next-to-impossible. It's the equivalent of finding a needle in a haystack, only the "haystack," in this case, is your drywall. Leaks can be deceptive. Gravity can carry a drip from an upstairs pipe to the living room wall downstairs. You can't cut open all the drywall in your home trying to guess where the leak is coming from. The answer here is precision. That's what our leak detection service brings to the table.
What are some signs I have a leak?
You'll typically notice water damage coming through the drywall, especially if the leak is coming from upstairs. Look for discolored or damp drywall: that's your earliest warning sign that there's a leak somewhere. However, some hidden leaks never physically manifest in this way, especially slab leaks. Higher-than-average water bills are the proverbial canary in the coal mine for all other types of household leaks.
We're here for local homeowners.
Proud to serve Buffalo and Western New York.
From Niagara Falls to Orchard Park and all points in-between, we're Western New York's local heating, cooling, and plumbing pros. No matter where you live in the Buffalo area, you can count on Reimer to be there for your home with our fast, Day or Night service.

Click the link below to see all the communities we serve, and to contact us for service.