YOUR DAY OR NIGHT FULL-SERVICE PLUMBER.
Trusted Erie County, NY Plumbing Services.
It's great to have a local company you can trust. The plumbers at Reimer have been here for Erie County & Western NY homeowners for more than a century.
We're a fast, affordable plumber. We're available Day or Night. And all of our services come backed by our 100% satisfaction guarantee.
When you need Erie County, NY plumbing services, call the local professionals at Reimer for service, or contact us online.
Experienced, friendly plumbers.
Friendly and professional.
Day or Night Erie County, NY plumbing services.
100% satisfaction guarantee.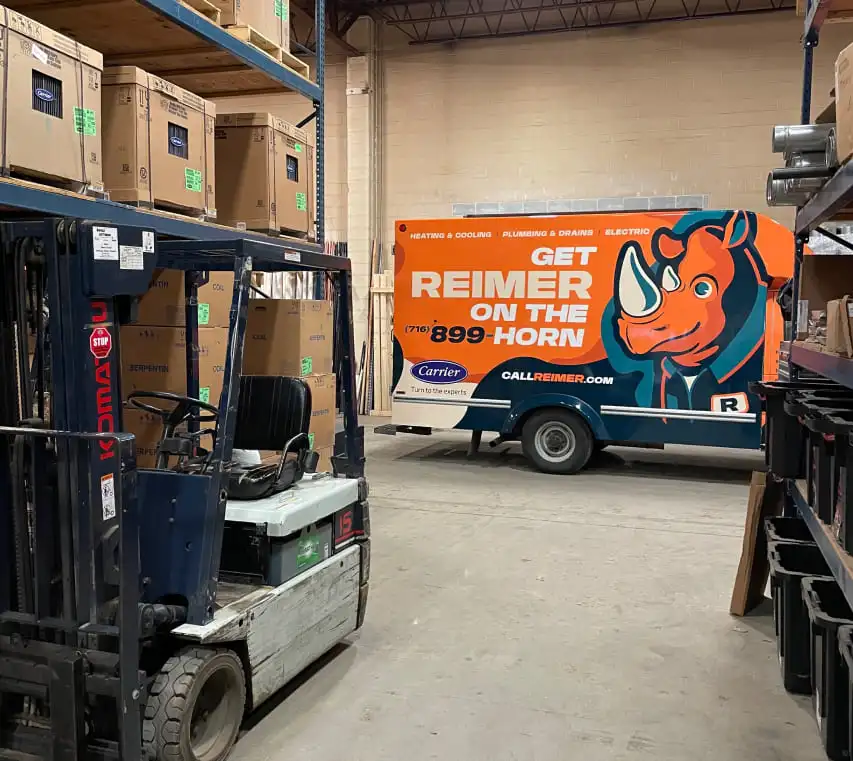 WE'VE GOT YOU COVERED
Maintenance Plans
Since 1921, our team of Western NY's top notch service specialists have been serving the area and caring for thousands of customers. At Reimer, we do everything in our power to ensure that your home comfort system works efficiently and effectively every time you turn it on.
Multi-Point System Inspection
Calibrate System for Efficiency
Ensure Proper Airflow
Maintain System Warranties
Reduces Unexpected Breakdowns
Evaluate Filtration & Indoor Air Quality
Routine Maintenance Leads to Reduced Utility Bills and Extends the Life of your System(s)
View Maintenance Plans
YEARS OF
EXPERIENCE
Since 1921
Air Conditioning, Heating & Plumbing Repair in Buffalo, New York.
For decades, local homeowners have trusted the team at Reimer Home Services with all their home service needs. We're your HVAC company in Buffalo. We're your plumbers here in Western New York. Above all else, we're here for you and your home.
You can count on our team to be there when you need us. In fact, we're available Day or Night. Your home's problems can't wait, and neither should you. Call us and let us know how our plumbers and techs can help.
We're your local home services team…
Chris and Kevin were excellent! The issue involved plumbing. Accomplished all that was needed at the time. They are returning for additional work as well. The annual contract has great value , and gives homeowner piece of mind when problems arise! I just signed up for mine!
-Kitty Testa
Chris L. Is a wonderful man. Put my mind at ease immediately when he looked at the problems which turned out not to be as bad as we thought. I will definitely use them again. Great service!
-Janice Kaled
Chris Reimer was at my home and did a great job was very nice guy to have work in my home and gave me no run arounds. I would for sure use again thank you very much!!
-Matthew Dillon
Our 100% satisfaction guarantee.
We back our work with a 100% satisfaction guarantee. If you're not completely satisfied with our service in your home, please let us know so we can work with you to make things right.
Your Erie County plumbing professionals.
Plumbing Repair
Need a plumber? Call us for fast, Day or Night service. We'll dispatch one of our friendly plumbers to your home right away. We're here to help you when you need plumbing repair in Erie County & Western NY.
Water Heaters
When your water heater stops working, it can bring your daily routine to a halt. Call Reimer when you need water heater repair in the Buffalo area. We'll send one of our experienced plumbers your way.
Drain Cleaning
We offer professional drain cleaning in Erie County, NY. We'll leave your drain clean, clear, and smelling fresh. Call us today if you have a sink, toilet, or shower clog you need cleared.
Leak Detection
Does your home have a hidden leak? Or, do you have water damage, but no way to see where it's coming from? Call us for leak detection services in the Buffalo area. We can help pinpoint the leak.
Frozen Pipes
Our team thaws frozen pipes and repairs pipes that have burst due to overnight freezing. If you have frozen pipes, call us right now for Day or Night service in Erie County, NY. We'll send a plumber your way.
Sewer Line Cleaning
A sewer line clog is incredibly bad news for your home. Have our plumbers out to clear your sewer line. We offer three helpful sewer line cleaning packages here in Western New York. Call us right now!
We also offer these other plumbing services
Our 100% satisfaction guarantee.
We back our work with a 100% satisfaction guarantee. If you're not completely satisfied with our service in your home, please let us know so we can work with you to make things right.
Call us for Day or Night plumbing service.
Reimer is, and has always been, a company focused on our customers. That's why you can always call on us when you need Day or Night Erie County, NY plumbing services. If you have a plumbing emergency, call us.
Proud to serve Erie County & Western New York.
For a century, Reimer has provided outstanding plumbing services throughout Erie County and Western New York. In 100 years, our community has been through both good and tough times. So much has changed since Richard Reimer, our founder, went out on his first call in 1921.
Through it all, the service vehicles bearing the slogan "The Wizard of Comfort" have traveled back-and-forth on Ferry and Walnut, bringing friendly service and a smile to the homeowners here in town.
Today, we're prouder than ever to be the team this community turns to for reliable plumbing services. Thanks to you—our customer—we've been here for generations. We'll be here for generations to come, making sure the plumbing services of Erie County, NY are met.
We offer affordable plumbing repair.
All homeowners know that every dollar matters. Yet, you also shouldn't have to compromise on quality service. At Reimer, we provide professional plumbing services at fair rates. Our monthly specials allow our customers to save even more. Ahead of starting every job, we'll provide you with an upfront, honest estimate of what things will cost. No surprises, no gimmicks: just great service.
We're available Day or Night.
If our many decades in business have taught us one thing, it's that most plumbing emergencies can't wait until morning. That's exactly why we offer Day or Night emergency service. Call us anytime, and we'll be there. Our plumbers here in Erie County, NY are standing by and ready to help.
Your satisfaction is guaranteed.
For our team, taking care of your home and its plumbing isn't just another "job." It's keeping our promise to you, our customer. We want you to have complete peace of mind that your decision to call us was the right one to make. That's why we back all our work with our 100% satisfaction guarantee. If you're not completely satisfied with our work, let us know. We'll talk it through with you and figure out how we can make it right.
Our plumbers are the best in the business.
At Reimer, people are at the core of our company. You can't have a great service company without great people, which is why we work hard to hire the very best plumbers from Erie County, NY and beyond.
Many of them live in Erie County.
Our team takes pride in our work.
We're a team-oriented company.
We'll always be here for your home.
Whether you're calling us for pipe repair or new water heater installation in Erie County and Western NY, we're going to work hard to earn your business. After all, our customers come first.
We've helped generations of homes.
Our customers come first.
Service throughout Erie County, NY.
Factory Authorized Carrier Dealer
Reimer is proud to be a Factory Authorized Carrier Dealer offering a 100% Satisfaction Guarantee. We are so confident that you will be comfortable – not only with your Carrier heating and cooling products but with us as a Carrier Factory Authorized Dealer – that we back it up with a 100% satisfaction guarantee. If, for any reason, you are dissatisfied with your Carrier equipment within one year
Our plumbers fix it all.
Our team works with all makes and models.